WHY CHOOSE PAUL BESMERTNIK FOR YOUR HOME INSPECTION?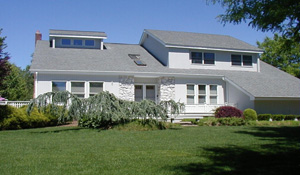 Paul Besmertnik has personally performed over 4,200 inspections since 1976. He is one of the few graduate Civil Engineers doing inspections on Long Island, with a Bachelor's Degree in Civil Engineering from Cooper Union in NYC, one of the best engineering schools in the country, and has a Professional Engineers (PE) license. This allows him to discuss house structural deficiencies, something almost every other inspectors cannot do, as they are not a Professional Engineer. In fact, if you want or need a structural commentary, they will refer you to a Professional Engineer in their report, so you may pay double when you use a non-engineer.
His goal is to give buyers a comprehensive and unbiased visual property inspection to help them make confident buying decisions. Most of his inspections will take 2 to 3 hours, while most other inspectors may do it in half that time. His inspections take longer because they are more comprehensive.
You're encouraged to accompany him during the inspection and receive his comments about the house as he does the inspection.
The reports are concise, well written, about 20 pages. It is not computer generated with generic comments. It concludes with a Summary Page that gives you a road map of what actions you should take after you buy the house, based on over 35 years of experience
The report will be e-mailed to you usually in two days. Paul Besmertnik also performs Expert Long Island Windstorm Inspections as required by insurance companies, to obtain wind storm insurance. 
Paul is available for Emergency House inspections 24 hours a day.  His expertise will provide you with a quality home inspection.  Whether you are a buyer or seller and need an inspection done, Paul has all the knowledge to complete a home inspection in your area. 
HIS PERSONAL PHILOSOPHY IS THE KEY TO HIS HOME INSPECTIONS!
He believes that as part of his service he should provide specific comments, not broad generalizations. He will always make the best physical effort to do the best possible inspection and report for his clients. After the inspection, he welcomes your call to answer any questions you may have about the report.
This is the way all his 4,200+ inspections have been done to date.  His home and condo inspections have been done throughout Nassau County, Suffolk County, Queens, and Brooklyn.  This is why he proudly says this in his logo:
"QUALITY HOME INSPECTIONS SINCE 1976"
Besmertnik Home Inspections is a certified home inspector in Long Island, NY, serving Melville and the surrounding areas.  Call Paul Besmertnik today for more information!